Painting with food or natural products is painting as before.
When painting did not exist, artists had to make it. In each painters workshop they had different colors and ways of making them. The colors took them from food such as spices, vegetables, tea, etc … and from the minerals of the earth. Each area of ​​the world had different colors of the earth.
For example, red was taken from a bug in America , the mealybug;
The yellow of the dandelion
Cennino Cennini , an Italian artist of the s. XV, wrote a book called Il libro dell'arte , where he explains all the techniques for making colors (pigments), different types of brushes, making fabrics for painting and gives a lot of tricks. It is the first book of these characteristics.
Before, the good artists were considered Masters and for to paint and prepare everything they needed, they had a workshop with many people: the trainees. Teachers were taught what they knew these . Over time, apprentices had a trade and those who were good became Masters.
Activity time: 40 minutes minimum
Difficulty: low
Age : from 5-6 years
Materials:
At home you surely have many ingredients that serve to paint and that you had not noticed. I advise you to experiment with everything you can. It is fun!
We suggest some ingredients:
Turmeric
Peppers
Coffee
Herbal tea
Curry
Green Tea
Beet
Artichoke
Etc…
                   +
Steps to follow:
1. In a glass put a little water and a little of each thing you have selected: spices, coffee, herbal tea, etc … and stir it.
Better that you start by putting little water and few species. If it lacks color you can always add more species.
2. You can use brushes or just use your fingers to paint. As they are all natural products of the kitchen, they are not toxic. Drawing with your fingers is something we don't usually do. Experiencing different ways of painting is very interesting and fun.
3. Make your drawing with the colors you have created. If you want you can try them before you start… 😉
You can paint an animal, a landscape, a portrait or whatever comes to mind….
4. Here are some drawings that we have made.
Like the face of this puppy , combining the different colors that we have created for each area. Notice that the Tisane with forest fruits is used to make the mouth and the tongue. Paprika and Turmeric to make the contour of the face and to paint it.
In the fantastic landscape, you can put the colors as you want…
And for the portrait , it is you who decides the contour of the face, eyes and hair color.
5. This other type of landscape is for the most daring or the oldest.
See how only using dark and light colors can create an atmospheric effect. It is an abstract landscape.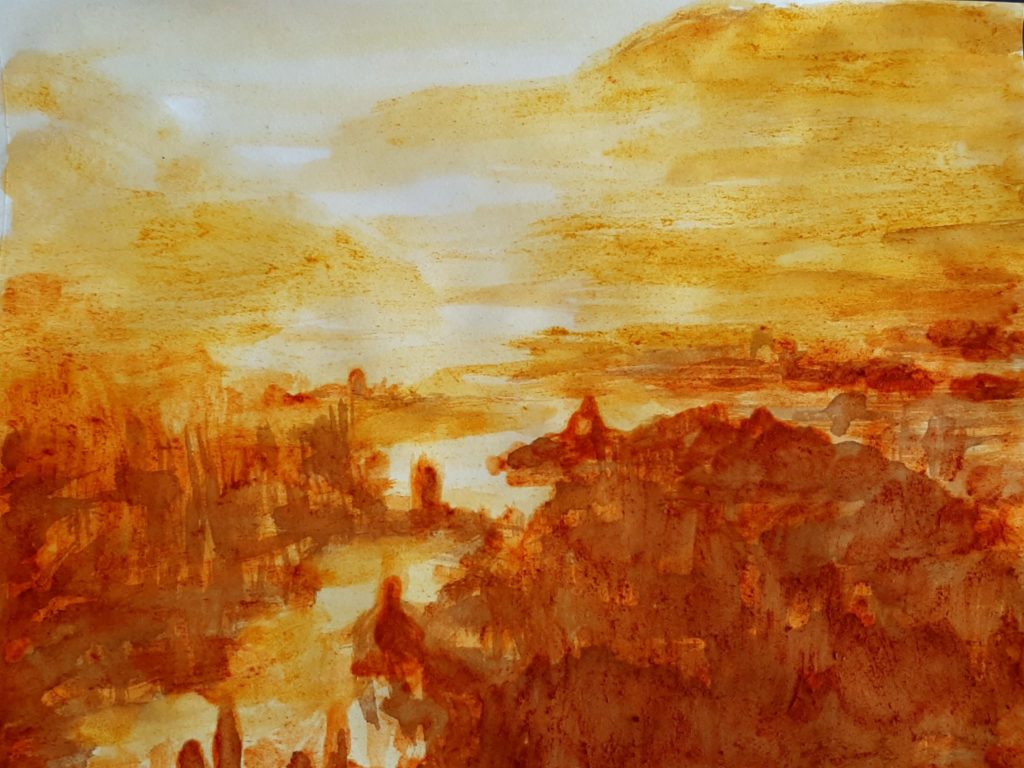 And don't forget to send us your drawings and explain what you used to do. We will post them!
We know and we are very excited that many people from South America and Spanish-speaking countries follow us through the web and social networks. From Mexico they tell us that they love our posts and our entire blog in general. So much so that this post has been included in the article " 11 exploraciones y experimentos llenos de color para niños y niñas " published by the educational publisher Twinkl on his educational blog in Spanish . Thank you Twinkl for following us from Mexico!!!